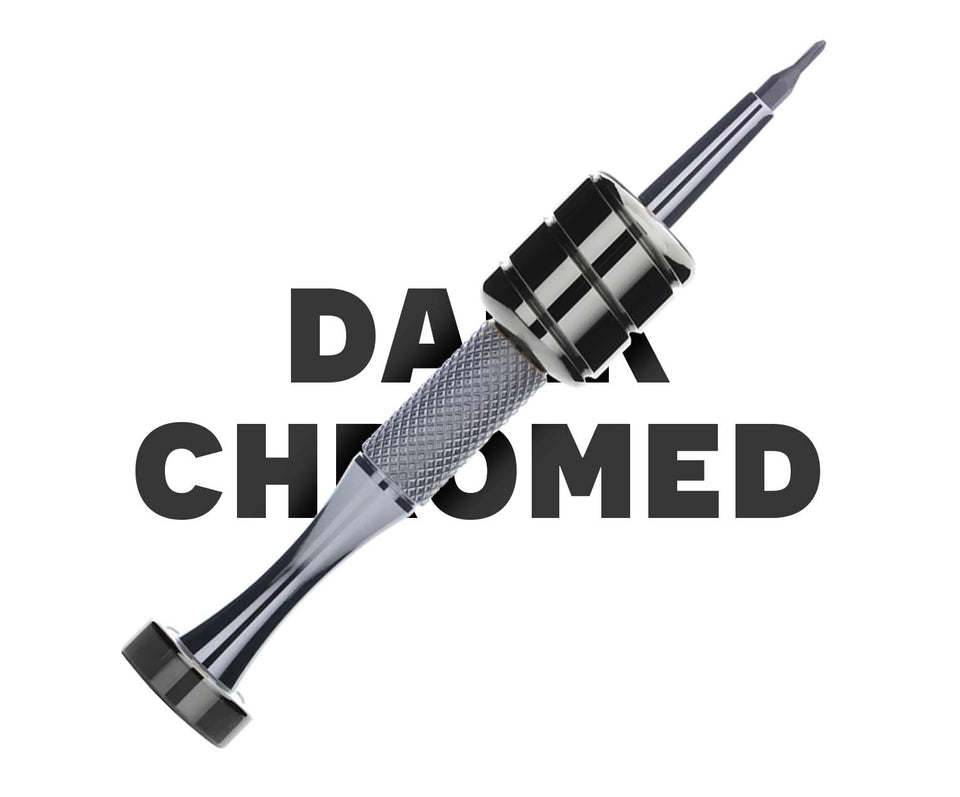 Kinetic Driver
KD01D
You will receive:

1x Kinetic Driver
24x Precision Microbits
1x Cork Organizer Case
Make your own Kinetic Driver Stand, download the FREE project files! 
Every Kinetic Driver customer benefits from the "I Want You Back" policy: You can receive free new precision microbits, for a limited amount of times, if they get broken, lost, or stolen, just paying for the shipping cost or adding them to another order from the Placed Atoms shop. 
Write an email to love@placedatoms.com if you want to know more. 
Allow me to tell youwhy you don't need the Kinetic Driver
It has a brass cylinder with a low CG.
It creates a flywheel effect that feels like a superpower.
But you don't need that.
Screwing in
Easy twist
Screwing out
The total weight of the Kinetic Driver
is enough to produce the right pressure on the screw.
So you don't have to.
But you don't need that.
Dimensions: 140x25mm (5,5*0,98")

Shank/Handle: Passivated Stainless Steel

Kinetic Cylinder: Brass

Bearing Ring: Passivated Stainless Steel (depending on your survey)

Weight: Approx. 205g (0,45lb)

Weight with case: Approx. 410g (0,9lb)

Dimensions with case: 185*270* 40mm (7,2*2,8*1,6")
The case neatly holds the Kinetic Driver and its bits.
But it's also a smart platform to organize
the small parts you're working with.
But you don't need that.
The Kinetic Driver is thinner where it should be.
It accommodates the fingers that are not part of the action.Feels like the whole hand is resting.
But you don't need that.
The passivation finishing process
is a chemical treatment that leads to a protective oxide layer that makes it virtually immune to corrosion.
But you don't need that.
But if you want a tool that eliminates the gap
between your hands and your next creation.

A tool that feels like an extension of your skin.

Well...
In that case...